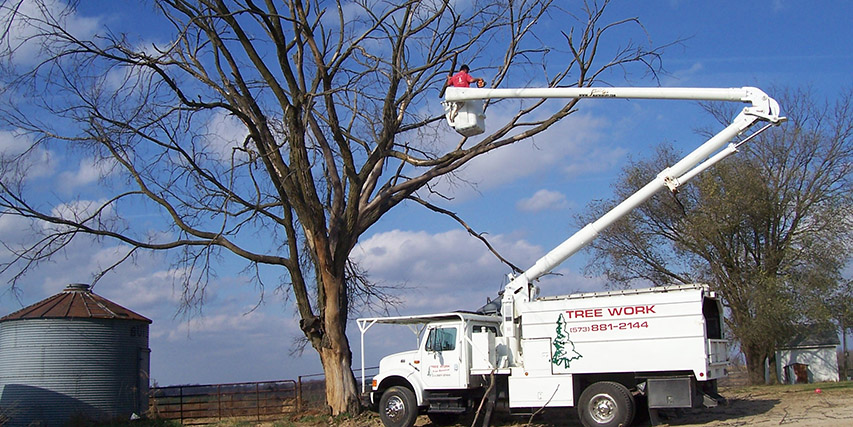 Offering: Tree Service in Centralia, MO
Quality tree service in Centralia, MO is only a phone call away. The team at Columbia Tree Work is dedicated to providing you with the best services throughout town. We are committed to superior tree service and excellent customer service. Our tree experts are properly trained to handle all of your tree concerns and will educate you about all of the proper techniques and ways to care for your tree.
Centralia is a small city located within Missouri and it lies in both Boone and Audrain counties. The 2012 census revealed that there are approximately 4,136 residents, which is up from 4,027 residents in 2010.
While the city is small, it is not boring and has a lot of history packed within its boundaries. The city is home to two historic places – Chatol and Albert Bishop Chance House and Gardens.
The climate in Centralia is nice with about 195 sunny days. The city sees about 25 inches of snow throughout the winter time and 37 inches of rain throughout the year.
If you are in need of tree service in Centralia, MO, contact the professionals at Columbia Tree Work today to schedule an appointment.
Tree Removal
Did you know that there may be a tree in your yard that should not be there? It is true. Some trees shed their branches and leaves throughout the year and this can cause them to become a nuisance. When a tree starts to become difficult to maintain, it may be time to remove it from your property.
If you have any trees in your yard that are a nuisance or they have become a problem by threatening the safety of your home and property, contact Columbia Tree Work today.
Tree Trimming
If you look outside and notice that your tree is growing out of control, it is time to have it trimmed and pruned. If you have a tree that is wildly rowing, you may notice that it is stressed out and when it is, the tree is more susceptible to disease and invasion of pests.
Our team of tree trimming experts is ready to deliver the best tree care throughout all of Centralia. Each one of our technicians is trained to shape your tree and remove any problem branches that may become intertwined with your power lines.
If you are in need of tree service in Centralia, MO, contact Columbia Tree Work today at (573) 881-2144 to schedule an estimate.
Stump Grinding
If a tree was recently removed from your yard, you may have noticed that the tree stump and roots are still intact and in the ground. Many people do not want the stump there anymore and that is where we come in.
Our team is ready to grind your stump to clear your yard from any leftover trees. This process is done quickly and efficiently, so you can re-soil the area and perform the construction or renovations you need to on your land.
Tree Transplanting
At Columbia Tree Work, we offer tree transplanting services to help you keep your mature trees and place them somewhere else on your property to thrive.
Sometimes, trees grow in odd spots or they become too big for their current location. In these situations, we will transplant them to a new location, so that they can flourish and grow properly.
If you are interested in having a tree or two transplanted, contact our team today to schedule an appointment with us.
Brush Hogging
If you have a lot or property that is filled with tall weeds and grass, it is time to have brush hogging performed. Our team is experienced in operating the proper brush hogging equipment to quickly and safely mow your lot.
When you have a freshly mowed and trimmed lot, you will notice that your property value increases and you are able to properly assess your land and its needs.
Let Our Professionals Care for Your Trees
Big or small, thin or wide, we service all of the trees on your property. Our owner Mike is dedicated to providing all of the local Centralia area with the best tree services around. Mike has a forestry degree and over 30 years of experience in the tree industry.
We are fueled by our love and commitment for healthy trees all over Missouri. We want you to know that we will not only properly care for your trees, but we will educate you on how to take care of them in between visits.
Whether you are in need of tree service in Centralia, MO, tree trimming, stump grinding, or firewood, we are the right team for the job. Contact Columbia Tree Work at (573) 881-2144 now to schedule an appointment to receive a free estimate.