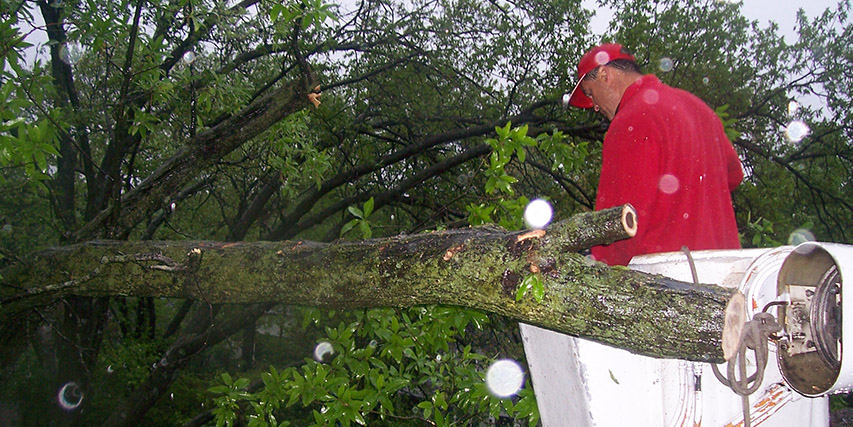 Offering: Tree Service in Fulton, MO
Tree service in Fulton, MO can help you properly maintain your property and provide your trees with the care that they need to thrive. The team at Columbia Tree Work is ready to work with you to perform any tree work that you may need done. Our team members are experienced in all areas of tree service and have the proper certifications and skills to get the job done.
Fulton, Missouri is a small town that has an estimated population of about 12,790 residents in 2010. The city is best known for being home to two main universities – Westminster College and William Woods University.
The local city is filled with history and the National Churchill Museum is one of the most well-known spots. The climate in the area changes with the seasons and you can expect an average rainfall of three to four inches in the spring months.
If you are in need of tree service in Fulton, MO, contact Columbia Tree Work today to receive a free estimate and to schedule your appointment.
Tree Removal
Adding an addition to your home may require that you have some trees removed from your property to make room for the construction that will take place. While it is sad to see them go, they must be removed in order for you to expand your home or enhance your property.
Sometimes, you may need to have a tree removed from your yard because it poses a risk to your home or it may be dying.
It is important that you have a professional perform the tree removal to prevent injuries from occurring or the wrong tree from being removed. If you are in need of tree service in Fulton, MO or tree removal, contact our professionals today for a free quote.
Tree Trimming
If you have recently noticed that your property is mainly covered with shade, it may be time to have a good tree trim performed. Our top notch tree service in Fulton, MO is designed to help keep your trees properly shaped and beautiful.
Our team of tree experts will climb up into your tree and reduce the leaf density that is above your home. The result of this is that light will shine through to your yard and you will no longer be covered in shade.
If you are in need of quality tree service in Fulton, MO contact the team at Columbia Tree Work at (573) 881-2144 to schedule a free estimate for service.
Stump Grinding
When you have a tree removed from your yard, the stump is left behind along with the roots. Often times, the stump gets in the way when you want to walk through your yard or when you want to perform construction work on your property.
At Columbia Tree Work, we perform fast and safe stump grinding services to remove the stump and roots from your yard. This service is performed by our trained technicians to ensure the job is done correctly and efficiently.
Tree Transplanting
If you need to have a tree removed from your property, it is possible to have it transplanted somewhere else, so that it can continue to grow and thrive. Sometimes trees are planted in bad areas or they grow too big for where they are.
Our tree transplanting services are able to uproot your tree safely and replant it in a new area on your property to help preserve it and allow it to reach its full potential. If you would like to receive a quote for our tree transplanting services, contact our office now.
Brush Hogging
If you have a lot that need to be cleared from overgrown weeds and grass, our team can help you with all of your brush hogging needs. We have all of the necessary equipment to handle the job and get it done on time.
Lot clearing and mowing is an important part of your land maintenance, especially when you want to use the land for crops or assess the land's health.
We Help You Care for Your Trees
The health of your trees matter to us and we are here to educate you about your trees and how to care for them. Our owner, Mike Weil has a degree in forestry and is fueled by his love of trees.
With over 30 years of experience in this industry, you can rely on us to provide you with the most accurate information about your trees.
Our team is properly trained and certified to perform all of the services we offer. Whether you are in need of tree trimming, firewood, or stump grinding, we will be there for you.
If you need tree service in Fulton, MO, contact Columbia Tree Work today at (573) 881-2144 to schedule a free estimate.