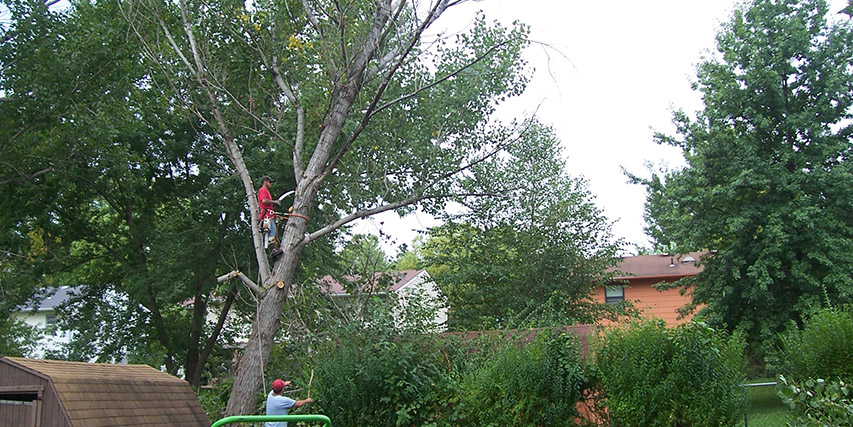 Offering: Tree Service in Hallsville, MO
Quality tree service in Hallsville, MO can be hard to come by, but the team at Columbia Tree Work wants you to know that we are on your side and will provide you with the best services money can buy. We specialize in all types of tree services from trimming to stump grinding and even brush hogging.
Hallsville is a small city in Missouri and as of the 2010 census, there was a total of 1,491 residents. The city was named after Jude John W. Hall, who was the first postmaster. The city is packed full of history, which includes the Mount Zion Church, which was burned down in 1863. The church was rebuilt in 1903 and is still standing today.
The climate in the area is considered nice with about 195 sunny days during the year. The areas received about 20 to 25 inches of snow per year and roughly 35 to 40 inches of rain per year.
If you are in need of tree service in Hallsville, MO, contact Columbia Tree Work today for a free estimate.
Tree Removal
You may need to have some trees removed from your property or lot if they show signs of disease or invasion from pests. Typically, when trees are infected or infested, they become weak and they end up dying. Once the tree dies, it then spreads the disease and pests to other trees in on the property.
Our team is highly trained and qualified to look at your trees and determine if they pose a risk to other trees and if they need to be removed. If they do, our team will remove them quickly and safely.
Tree Trimming
If you have too much shade cover in your yard, your tree may be overgrown. When this occurs, the tree experiences stress and is unable to properly grow and take in the nutrients it needs to thrive.
Tree trimming is needed in cases where a tree is overgrown or there is too much leaf density. When our team comes out to your home, we will assess your trees and then trim and shape the ones that need to be tamed. Our professionals are trained and have the right tools to get the job done safely and efficiently the first time around.
If you are in need of tree service in Hallsville, MO, don't be shy and contact the team at Columbia Tree Work today at (573) 881-2144.
Stump Grinding
Even when trees are removed from your property, the stump and roots are left behind. This is a standard practice, but it does not mean that the stumps should remain on your property.
Stumps can be dangerous, especially if you do not know they are there and trip over them when walking. Our expert stump grinding team is ready to talk to you and remove all of your unwanted stumps from your yard. We work quickly and safely to get the job done.
Tree Transplanting
If you have a tree near your home that is healthy, but too large for the area, it may be time to have it transplanted. Our tree transplanting services allow you to keep your favorite tree by simply relocating it to a better area for it.
Trees that are too large for an area become confined to a small space and they cannot grow properly. When this happens, the tree experiences stress and may become weak and susceptible to disease or pests.
Our professionals will properly and safely transplant your trees to ensure that they remain intact and healthy. If you would like to learn more about our tree service in Hallsville, MO, contact us now.
Brush Hogging
If you have a large lot of land or a field that is growing out of control, you can depend on us and our Bobcat and brush hog equipment. We will come out to your field and mow the long grass and weeds to open the area and expose the usable land underneath.
Our brush hogging services are tailored to meet your needs and we can clear any size lot – small or large. If you are interested in learning more about our brush hogging services, contact Columbia Tree Work now.
Quality Tree Service When You Need It
Columbia Tree Work is dedicated to providing you with the best customer service and tree services throughout all of the Hallsville, MO area. Mike Weil, our owner, knows how to properly care for a tree and will teach you all of the ins and outs.
With a degree in forestry and over 30 years of experience, Mike is committed to the conservation of and health care for all of the trees on your property.
All of our team members are trained and certified to perform tree services in Hallsville, MO. Whether you need to have your trees trimmed, stump grinding performed, or tree transplanting services, call us now at (573) 881-2144 to schedule an appointment.